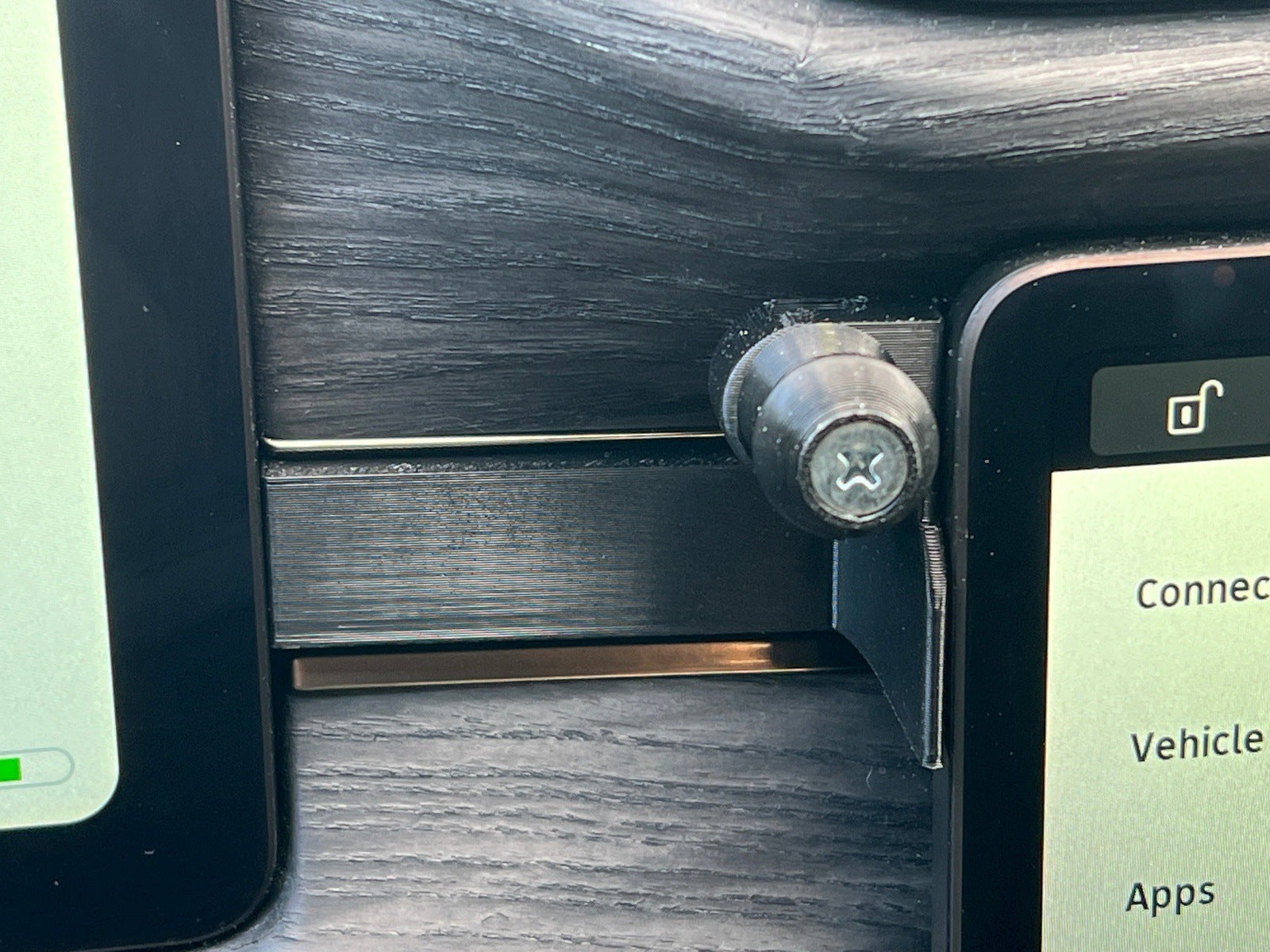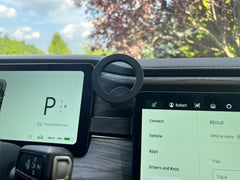 Rivian Owner Made
This product is created by a Rivian Owner for Rivian Owners
Community Feedback Incorporated
This product incorporates feedback received by the online Rivian Owners community
Tested in a Rivian Vehicle
This product has been explicitly designed for and extensively tested in a Rivian
Made in the USA
Most or all of this product is Printed or Made in the USA (electronics excluded)
Ships from OpenSourceEV
Shipments of this product come directly from OpenSourceEV
Design is Open Source
The design of this product has been published publicly for remix and free personal use
The OpenSourceEV Phone Ball Mount EVO is the third generation of the best phone mount on the market for the Rivian R1S and R1T. It's designed to tuck in between the gauge cluster and infotainment screen. It's held in place via friction and is easily removable.

The Phone Ball Mount EVO improves on the Phone Ball Mount PRO in the following ways:
The ball mounting location is moved upward, to the right, and slightly forward for a better viewing angle which is less obscured by the steering wheel.
The surface area along the rear of the infotainment screen is significantly larger to ensure a tighter, more secure fit.
The ball mount is now modular, allowing for a quick swap between sizes without having to purchase a brand new mount and without having to deinstall the base.
The ball is now secured in place by an M5 x 30MM steel bolt and nut which better supports larger, heavier phones.
The Phone Ball Mount EVO is compatible with all three ball sizes - 17MM, 20MM and 1 Inch. One of these is included, other are sold separately. The 17MM works with most phone mounts, 20MM works with the co-branded Offroam x Peak Designs products (link below), and a 1" size designed for RAM branded items only.
Please note that this mount alone will not hold a phone in your Rivian - it is designed to be an attachment for a 3rd party phone holder. Phone holders pictured are not included. We suggest defaulting to the 17MM mount unless you know exactly what you want. We've also tested and suggest the following phone holders that are known to work well with this mount:

** Please note that Phone Mount PRO and extra ball sizes pictured are not included **
Right Side Rivian Phone Mount Works Perfectly!
The mount snaps in easily and positions the phone where I can see it without blocking the screen or being hidden behind the steering wheel. Very sturdy and doesn't move around.
Best phone mount for RIVIAN R1S!
I tried several other options and none worked well until the Evo mount. I paired with the Lisen mag safe unit for my iPhone 14 Pro and it looks as if it was OEM - perfectly matching with the RIVIAN dash. Is great!!
Sleek and Elegant
I really enjoy the phone mount I added the Seigen wireless magsafe mount to it. Modern contemporary look hardly noticeable. The mount looks like it should have been there from the manufacturer.
Great product, works as designed
excellent solution for something Rivian should have thought about during design, thank you for your efforts.
part all the time
Great concept but…This is the second one I bought First one broke second comes apart all the time
Hi Mark - Can you please reach out about what you've reported here? I'm not seeing that you have multiple of these, and I'd like to understand what is happening here and make it right. - Rob @ OpenSourceEV