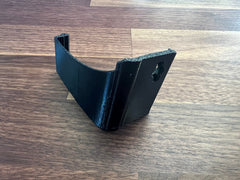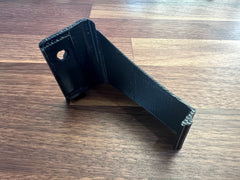 Left Phone Mount V2 Bracket "Extended Version"
Availability:
Many In Stock
Rivian Owner Made
This product is created by a Rivian Owner for Rivian Owners
Community Feedback Incorporated
This product incorporates feedback received by the online Rivian Owners community
Tested in a Rivian Vehicle
This product has been explicitly designed for and extensively tested in a Rivian
Made in the USA
Most or all of this product is Printed or Made in the USA (electronics excluded)
Ships from OpenSourceEV
Shipments of this product come directly from OpenSourceEV
Design is Open Source
The design of this product has been published publicly for remix and free personal use
This item is the replacement for the bracket included with the OpenSourceEV Left Phone Mount V2. It does not include any attachment hardware or ball.
This product is the EXTENDED version for use when the regular version doesn't lie flat. 
Not sturdy. The items I place on the mount just pull it out from the back and everything just falls. Should go back to the drawing board on this one.