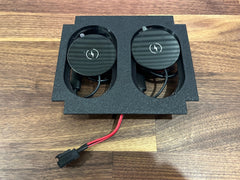 Stealth Magnetic Wireless Charging Pad Kit
Availability:
Backordered
Rivian Owner Made
This product is created by a Rivian Owner for Rivian Owners
Community Feedback Incorporated
This product incorporates feedback received by the online Rivian Owners community
Tested in a Rivian Vehicle
This product has been explicitly designed for and extensively tested in a Rivian
Made in the USA
Most or all of this product is Printed or Made in the USA (electronics excluded)
Ships from OpenSourceEV
Shipments of this product come directly from OpenSourceEV
Design is Open Source
The design of this product has been published publicly for remix and free personal use
The OpenSource EV Parts Stealth Ultimate MagSafe Charging Pad for the Rivian R1T and R1S is an updated re-issue of the original wireless charging pad replacement kit that we made in 2022. (read more about it here) It still is the ONLY wireless charging pad replacement kit to reuse the stock rubber topper to look 100% stock.
We're brining this back due to multiple customer requests for it. We've taken the opportunity to update the design to make it more durable, fit a bit better, and to be branding free. It's now printed in our premium ASA material for excellent temperature resilience.
The kit itself consists of a few pieces:
2 x Magnetic Wireless Charging Pads
2 x USB-C Quick-charge 3.0 Power Supplies
1 x Charging Pad Shelf
Wiring with a soldered Molex connection
This reissued product is a a direct, drop in replacement for the stock pad. Installation is quick- you can install with a trim tool (or butter knife) and a torx screwdriver. The charging pads are pre-installed, and the wiring is pre-soldered using the proper Molex connector. All the wiring is done for you. All you need to do is remove the stock pad (sans frame) plug this in, position the pads and stock rubber mat, and go.
There is no need to purchase any additional items - this is an all in one replacement that charges your phone quickly, holds it in place, and looks 100% stock. There are a few other details to take note of:
This setup works with all dimensions of MagSafe compatible iPhones - from Mini to Max - assuming your phone is bare or has a reasonable case on it.
This setup works with Android phones assuming that wireless charging is a feature of the phone and a MagSafe compatible case and/or ring is used.
There is no need to purchase additional charing pads. This kit includes two specialty selected ones as they are more magnetic than the OEM or JSAUX alternatives. It needs to be more magnetic to hold a phone through the rubber topper.

PLEASE ALSO NOTE: Like all other pre-soldered options that we've sold, this is a use at your own risk product.
Install Instructions: On RivianForums.com
Magnets on pad aren't strong enough
I was so hopeful that this pad would work but the magnets are not strong enough to prevent the phone from sliding. If the iPhone (MagSafe compatible) is not direct over the pad, the phone will not charge.
Hi GS - There are a few things that greatly impact how effective this product is, chief among them is the location of the pads and the case that is installed on the phone. The pads are designed to slide up and down to be positioned correctly under the phone. The case installed can either assist with keeping the phone on the charger or letting it slide around.
At the end of the day, the only location that is magnetic is right under the pads (not the entire surface) and we're limited by the thickness of the rubber OEM mat on top of them. These pads are much more magnetic than OEM ones, but they can only do so much.
Bottom line is that if you're expecting a nice 'snap' with this product, you won't find it -- it's more of a tug.