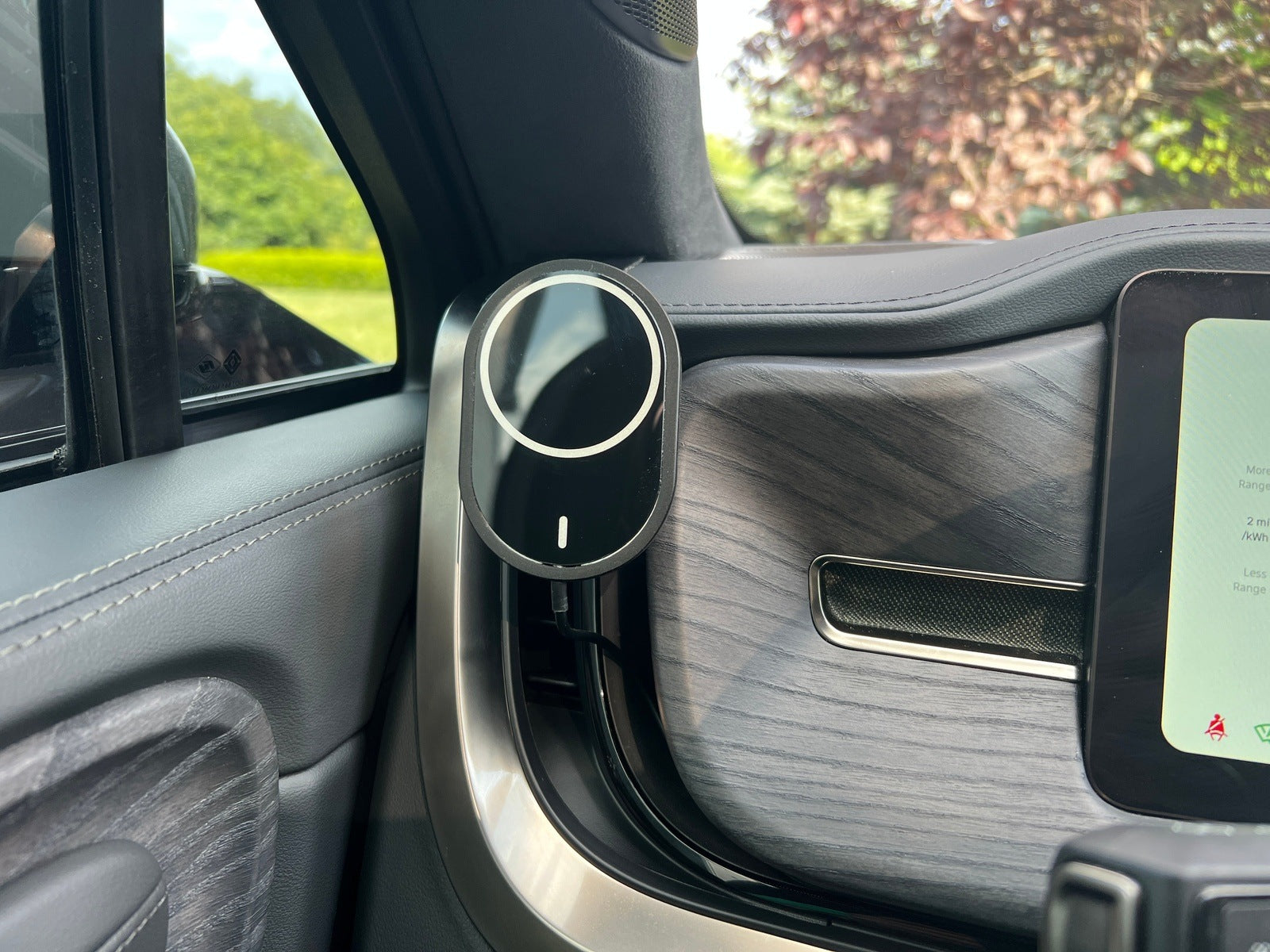 Availability:
Backordered
Rivian Owner Made
This product is created by a Rivian Owner for Rivian Owners
Community Feedback Incorporated
This product incorporates feedback received by the online Rivian Owners community
Tested in a Rivian Vehicle
This product has been explicitly designed for and extensively tested in a Rivian
Made in the USA
Most or all of this product is Printed or Made in the USA (electronics excluded)
Ships from OpenSourceEV
Shipments of this product come directly from OpenSourceEV
Design is Open Source
The design of this product has been published publicly for remix and free personal use
The OpenSourceEV Left Phone Mount V2 is the second generation of a new way to mount a phone holder in your Rivian R1S and R1T. It's designed to mount at the very top of the driver side air vent - just outside of the where it would be obscured by the steering wheel. 
The Left Phone Mount V2 improves on the pervious version in the following ways:
The mount is constructed of ASA instead of PETG for better durability, UV resistance, and temperature resistance of up to 300 degrees.

Significant structural updates to lie flatter and secure in place better.
The ball mount is now modular, allowing for a quick swap between sizes without having to purchase a brand new mount and without having to deinstall the base.

The ball is now secured in place by an M5 x 35MM steel bolt and nut which better supports larger, heavier phones.
The Left Phone Mount V2 is compatible with all three ball sizes - 17MM, 20MM and 1 Inch. One of these is included, other are sold separately. The 17MM works with most phone mounts, 20MM works with the co-branded Offroam x Peak Designs products (link below), and a 1" size designed for RAM branded items only.
Please note that this mount alone will not hold a phone in your Rivian - it is designed to be an attachment for a 3rd party phone holder. Phone holders pictured are not included. We suggest defaulting to the 17MM mount unless you know exactly what you want. We've also tested and suggest the following phone holders that are known to work well with this mount:

** Please note that the extra ball sizes pictured are not included **
Left side phone mount
The printed mount for the left side is just what I was looking for. The materials were such that they could be installed directly with perfect fitment. The location is unobstructed and is a perfect placement.
Great mount
This mount is great, a little tight installing on the a-pillar size, but it works. Also, used the AINOPE 2022 Upgraded Gravity Car Phone Mount with it, and the mount holds the phone (S21 with otterbox) a little high (it hits the a-pillar and needs to be tilted down).
I might experiment with a different holder, but this mount is great.
The right choice.
I purchase both the middle and this left phone mount. I didn't like the middle mount because most of the screen is blocked by the wheel. This left side mount is probably the only spot in Rivian to see the entire screen. It is bit difficult to charge my phone while driving but I rarely need to charge my phone while I am driving.
Works great and these guys are awesome
Works just as advertised and they threw in an extra piece to make sure the sizing worked. I mounted in my R1S (2023). I ordered the 17 mm ball and paired it with a LISEN MagSafe for iPhone. Next step is the OBD-II to USB adapter to power the charging. Shame Rivian nixed the 12V port in newer models.
Works great
Awesome holder. I have a Pixel 6 which is a taller phone. It barely has room to fit without brushing against side beam. Of course this might depend on holster used.
We'll made and secure. Maybe have option to adjust ball height.